Call Us :(647)933-5650
Email :support@riseandshine.com
Do You Square Foot Garden Save On Your Veggie Money
You are Now on: Home

Do You Square Foot Garden Save On Your Veggie Money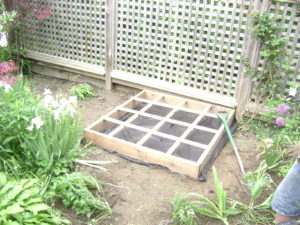 Do You Square Foot Garden?Spring is almost here and I am behind already. I have a list of new foods I want to try in my vegy garden efforts and I haven't started sourcing the seeds yet.
Last spring I heard about the square foot gardening phenomenon. It's been around for years but it just finally caught my attention. My back garden is almost all shade. I have several magnificent trees. The front garden was the only space for veggies.
Since moving to this house I have wanted a veggie garden but it hasn't been possible without using the whole front yard… which also had to be my flower & herb garden as the back is just all greens. Flowers won out for a few years. With the advent of the square foot garden I saw a way around it at last. They claim that one person can eat for the whole season out of one 4×4 square foot garden. So I put in two thinking there would be plenty and maybe extras to give away.
I have put an amazon link on the post in case you, like me have an inner city home with a small plot to garden and want to try this. But the nity gritty is this. You make the boxes from fur or cedar so that they won't rot. Don't go out and buy ash or pine… they will rot right out.
Late in the season I noticed that Canadian Tire had kits with more lightweight plastic materials and snap in systems. However I don't think any of them had the required depth. There is a specific soil mixture that generates huge results. Some of the items were a bit tricky to source here in Toronto but I did manage.
What's in the mix?
 1/3 compost from as many different sources as possible- non animal preferred
 1/3 vermiculite
 1/3 peat moss
The claim with regards to the mix are that it is so powerful that most plants can grow in 6" of it. My test run proved this to be true.
The mix is supposed to last for 10 years. You just add new compost each year. I used mushroom compost, organic chicken compost and a couple of others…. I have forgotten their names since this was about 10 months ago. This year I am going to try to find organic compost to top up.
The mix is crucial and without it you will not get the same results.
However, I did have concerns about vermiculite. Didn't know much about it but I was concerned due to it's relationship to Asbestos Here is a link to an article about it from the Manitoba Health Department in case you are concerned. http://www.gov.mb.ca/health/publichealth/environmentalhealth/vermiculite.html
The results were extraordinary. You can get a good idea from the pictures attached. There was one minor challenge that as a rookie I didn't think of. One zucchini plant in one square foot grew 5-6 times larger than any of the other zucchini plants outside my square foot box. It overtook a complete square foot all to itself plus spread out and overwhelmed the rest of the 4×4 box as well. The tomatoes did the same.
So I am thinking about where I may be able to install a separate box this summer just for tomatoes and zucchini on their own. So you might need one box for all your salad type greens, radishes etc. another for taller veg. and something separate for large vegys like squash, zucchini or tomatoes. I think I would just take some large pots and throw this soil mix into them and it will probably do the same job. Will try that this year.
There is a great forum you can join to ask and get questions answered http://squarefoot.creatingforum.com/http://squarefootgardening.org/
Pictures of our efforts
Getting Started with our square foot garden
Basic Box and getting started 4×4 cedar 2×6's screwed together.
1×2" slats stapled together to make a grid for each vegy box.
Second box getting started and adding the well blended soil mix.
All the food needed for a good green meal and lots of salad greens along the way.
I made the hood with plastic chicken wire that I held together with twist ties. Draped it over plastic pvc piping bought at Home Depot. Twist tied those together at the top. This kept my squirrels from digging up the freshly planted seeds and seedlings. Also something else had a fancy for certain lettuces. Not sure who, but they would pull them out and half eat a whole lettuce.
Cost of Square Foot Garden
To build the two plots in cedar cost in the $80-90.00 range. The soil mix was expensive because a really large bag of vermiculite big enough to do the two gardens was about $65.00 then there were the organic composts. But the mix lasts for 10 years. So up front about $250.00. including Several organic seed packets and a visit to the nursery.
Once things got going I didn't buy from the greengrocer which in my case is the Big Carrot on the Danforth and all their lovely organics. I had my own organics just walking out the front door. No waste whatsoever. I can't tell you how much it annoys me when I just don't get to eating good food and it is rotting in the fridge and I have to chuck it out. Especially at the cost of a largely organic diet.
Interested – grab the book at Amazon or Chapters like I did or google the subject. There are a couple of websites that have many more details than I have written here. Here is one local man's rather wordy blog posts on his square foot garden efforts http://wellpreserved.ca/square-foot-gardening-an-introduction/, but the content is excellent.
Have fun trying this out and let me know how it works for you. Comments Invited Below